Reintroducing The Tune Weavers:
Boston doo-wop singers return after four decades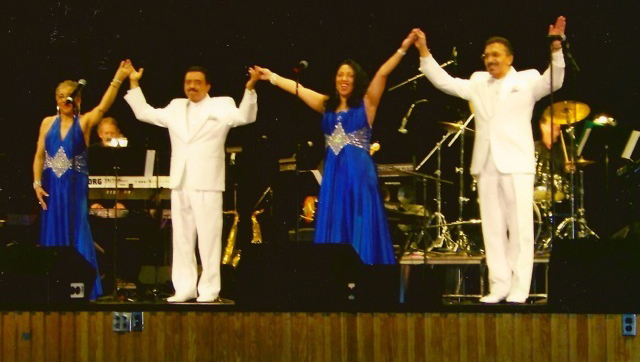 The Daily News
Thursday, June 26, 2003
By Josh B. Wardrop / News Staff Writer
The next time you're trying to get out of a blind date some well-meaning friend has set you up on, take a moment to think of John Sylvia. "I met my wife Margo on a blind date," he says. "A friend of mine was dating her cousin, and he set us up." From that blind date followed the usual: courtship, marriage, children, and a musical partnership that made The Sylvias pop stars.
Sylvia and his late wife — along with Margo Sylvia's brother, Gilbert Lopez, and their cousin, Charlotte Rose — were the members of the 1950s doo-wop quartet The Tune Weavers. Together, the quartet scored a hit single in 1957 with the ballad "Happy, Happy Birthday Baby," and a series of other successful tunes.
This weekend, more than 40 years after the original membership played their last show together, Sylvia and Charlotte Davis (formerly Charlotte Rose) have reunited to perform at this Sunday's "Royalty of Doo-Wopp" concert at Indian Ranch in Webster.
In 1956, The Tune Weavers were a quartet from the South End of Boston trying their hand at singing vocal harmony, like many of the popular groups of the day. Lead singer Margo Sylvia was also a songwriter, and the group had secured a deal with the small local label Casa Grande on the strength of her songs, including a particularly tuneful ballad called "Happy, Happy Birthday Baby."
"Margo and I had gone our separate ways for a brief time after we married," recalls Sylvia. "The song was written in reference to me, and our getting back together. Frank Paul, the head of our label, decided that would be the one we'd record." With their record Pressed, but without much of a promotional budget to support it, The Tune Weavers began taking their music to the people in the most direct they could. "We began doing record hops, which were very popular in the '50s," recalls Sylvia. "That was when churches and organizations would rent out their halls for the evening, bring in a deejay, and kids would pay a dollar to come in and hear all the big hits of the day. And, often, the artists would come to these record hops and lip-sync to their own records to promote them."
Sylvia remembers The Tune Weavers doing three, four and five record hops in a single Friday night. "We'd find out where they were, and drive from Dorchester to Malden to Medford," he chuckles. "And we always sang for real at the record hops. We didn't like lip-syncing." That was pretty much the extent to which "Happy, Happy Birthday Baby" was known, until the second major bit of serendipity in John Sylvia's life.
"A deejay in Philadelphia played our record one night, accidentally," he says. "And once it finished playing, he was bombarded by calls and requests from people to hear it again — and that was how it all started."
Before long, Chess Records in Chicago had snapped up the rights to distribute the record nationally, and in September 1957, "Happy, Happy Birthday Baby" was on its way up the pop charts, where it would eventually peak at number 5, while selling more than 2 million copies.
About that time, The Tune Weavers got a call from Alan Freed, the influential Cleveland disc jockey, asking the quartet to perform at a series of shows in New York. "We played the Paramount in Brooklyn," says Sylvia. "It was our first real, professional engagement, and everybody was on the bill — The Del Vikings, The Cleftones and other big bands of the time, and Little Richard was the headliner. You can imagine how that felt to a bunch of 21-year-olds from Dorchester — it was amazing!"
The first shows at the Paramount were a welcome to the big time for the group, and gave Sylvia and the others their first exposure to the demands of showbiz. "The others had sung onstage quite a bit, but it was still new for me — the whole thing was a great learning experience," he says. "Those were the days when bands performed many sets on a given day — we were doing four shows a day, five on the weekends. We worked with a 15-piece band behind us, featuring great musicians like King Curtis and Sam 'The Man' Taylor. It was a fantastic thing to hear a big band like that playing our song."
The Tune Weavers recorded more singles, including an up-tempo version of "Old Man River," which was originally released as the B-side to "Happy, Happy Birthday Baby." While none of their recordings achieved the same success as their debut, The Tune Weavers were still an in-demand live act, and they traveled the country opening for luminaries like The Everly Brothers, The Chantels and Buddy Holly.
The band encountered the highs of performing at legendary theaters such as the Apollo, the Howard and the Uptown, and the crushing lows of touring through the segregation-era American South of the 1950s.
"It wasn't very pleasant, to say the least," Sylvia recalls. "Gil and myself had already experienced it while stationed in the military in North Carolina, but it was new to Margo and Charlotte.
"We weren't allowed to be on the same stage with the white musicians at the same time," he recalls. "We'd have to switch to separate buses when we got down there, and most hotels didn't allow blacks, so we would stay in the homes of black families who lived near where we were playing. They would take in entertainers who didn't have a place to stay, feed them breakfast and such."
The Tune Weavers were together until 1960, when Rose left the group to get married, and was replaced by William "Bunky" Morris. Soon afterward, Lopez decided he wanted to spend more time at home with his family, so the group left the road and confined themselves to local gigs in the Boston area. "It became difficult," says Sylvia, "because we had other opportunities we had to turn down because they were too far away."
Finally, The Tune Weavers disbanded in 1962. Margo Sylvia continued to perform as a solo artist, and after a few years, she and John Sylvia divorced, and she went to live with Lopez, who had relocated to San Francisco. Margo performed on doo-wop reunion tours in the 1970s, and recorded some songs under The Tuneweavers name in 1988. She died in 1991, followed seven years later by her brother.
John Sylvia remained in the Boston area, settling in the affluent town of Marion in the early '70s. He spent the next three decades working in everything from the electronics industry, to the video rental business ("we were bigger than Blockbuster in the beginning," he says), to part-ownership of a Wareham restaurant/nightclub called The Showboat. Today, he's semi-retired, but still works as a transportation coordinator for Community Connections, arranging transportation for disabled children and adults.
And, much to his own surprise, Sylvia is now a Tune Weaver again. His return to music began when former bandmate Charlotte Rose (now Charlotte Davis) went to a Harvey Robbins-produced doo-wop show at Symphony Hall in 2002, where she reconnected with members of fellow Boston musicians The G-Clefs.
"Harvey ended up calling Charlotte not long after, and asked her whether we would be willing to come and accept a Lifetime Achievement Award at a Doo-Wopp Hall of Fame event," says Sylvia.
"We were told we didn't have to perform," he adds, "but I just didn't feel right about just walking out and accepting the award. So, Charlotte and I brought in two local singers I knew — Alice Fernandes and Burt Pina — and rehearsed with them. They were wonderful, and when we went to accept our award, we performed 'Happy, Happy Birthday Baby' and received a standing ovation."
Following the reunion performance, Robbins offered an invitation to join this year's "Doo-Wopp" tour, and Sylvia was able to convince an initially reluctant Davis to take part.
"I was very nervous when we first got back on that stage, and actually quite emotional paying tribute to Margo and Gil," says Sylvia. "But the response was so wonderful that I immediately knew I wanted to continue doing this."
More than four decades after their greatest musical success, The Tune Weavers — old and new — have returned to perform the songs that people danced to, listened to at the drive-in, and fell in love to. And John Sylvia is loving the opportunity to remember a special time in his life in the company of people who remember it too. "The greatest part of all this is how people remember us," he says. "When we were onstage at Symphony Hall, and looked out in the audience and saw people singing our songs after all these years…it gave me such a rush, I can't even explain it. It's a phenomenal, joyful feeling."